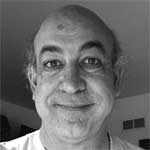 P. S. Mueller draws lots of cartoons.
Since 1969, when Mueller began contributing his awful drawings to the Daily Egyptian at Southern Illinois University-Cabondale, his cartoons have appeared in scores of alternative weeklies, magazines and books, as well as in the hallucinations of total strangers.
Today he contributes to: The New Yorker, Reader's Digest, Field and Stream, Brand Week, the Funny Times, The Onion, and numerous alternative publications and journals.
| | | |
| --- | --- | --- |
| | | But he's also kind of antsy and has worked for many years in radio and as a writer. Since 1999 he has co-written and delivered the Onion Radio News as anchor/savant Doyle Redland. (That's not his photo you see in their ads. It's another, prettier middle-aged guy who looks more like a real news reader.) |
Mueller also writes a regular column for Rosebud, a literary journal that has been completely taken in by him for several years.
He lives in Madison Wisconsin with one very tolerant wife and two peculiar cats.